Albums      
---
COMING SOON :
 Ravenson Mansion What We Leave Behind.

Coming soon the third and final part of the Ravenson Mansion Trilogy.
Ravenson Mansion Family Legacies
Available Now On all Streaming Platforms
Douglas Ravenson, Grandson of Tobias, has made a promise to his Father, Patrick. He will destroy Ravenson Mansion to end the curse the property has brought to the Ravenson name. However after viditing the property in person, he becomes conflicted on what the best course of action should be. To carry out his Fathers wishes or to keep the property. When he and his brother Andrew, stay the night in the old mansion, it is far from uneventful. Now with their minds made up, the brothers decide destroying the house is the only way to be free of the curse. But life is never that simple and the demon inhabiting the property has Its own ideas.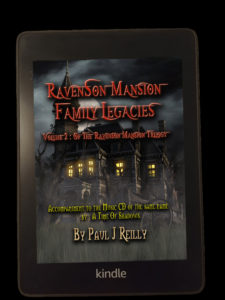 The Ravenson Mansion Family Legacies novella is available now : here

   Ravenson Mansion
Dark Secrets

When Tobias Ravenson is left a mysterious property in his Father's will, He can't understand why the beautiful Mansion has stood empty for so many years? Tobias decides to Renovate the house and moves his family in, then the terror begins.
This is the first album in the Ravenson Mansion Trilogy.
Each album will be accompanied by a novella of the same name.
The Ravenson Mansion Dark Secrets Novella is available on Amazon Kindle.

Cemetery of the damned
                      Somewhere in the old world, there exists a cemetery hidden from view. Set on unconsecrated ground and surrounded by empty barren fields. This is the final resting place of the unspeakably evil and vile. It is filled with the souls of the Cursed and Damned…
This is Our Darkest Album yet.
                                                
all hallows eve
Spooky Halloween album. This new album contains 12 Tracks of Terror. Each track tells its own mini-story of an urban legend, Halloween Horror, or some other spooky entity. Meet Creatures like Bloody Mary, The Headless Horseman, The Bogeyman and more…
Our Scariest album yet, listen to it with the lights on!!!
Haunted Asylum
The Haunted Asylum has 18 tracks and is a little darker than The House in the Fog.  The album revolves around the concept of some teenagers breaking into the old abandoned asylum on a dare to spend the night. However, they stumble upon more than they bargained for.
The House in the Fog
         The album revolves around our hero/heroine getting lost while hiking all alone. As they try to find their way back home, darkness falls and a thick fog roll in..  They see a light in the distance and head toward it, only to find the house in the fog and the terrors that await them within…
Copyright © 2022 A Time of Shadows. All Rights Reserved.